Project with land fill, China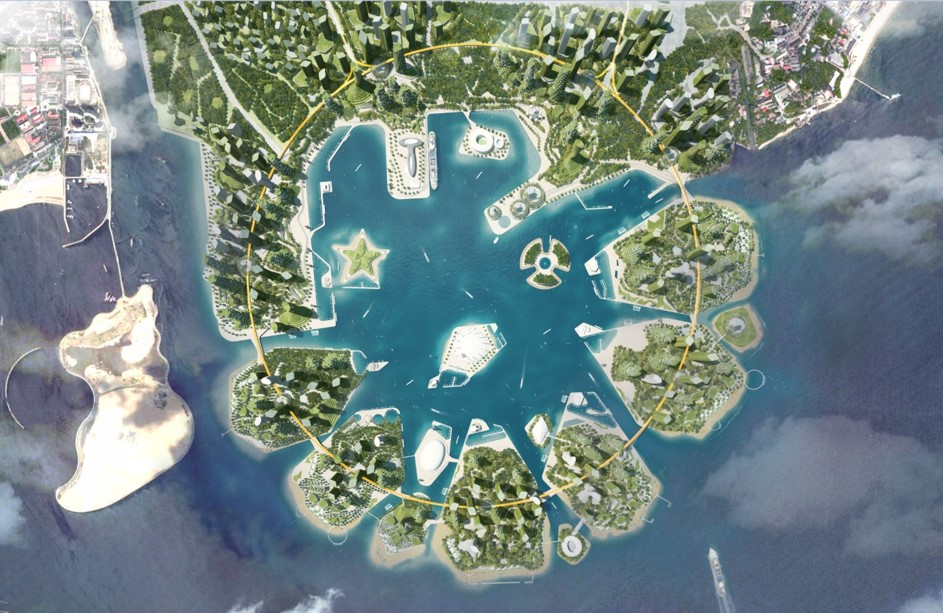 Location: China
Site Area: 8.3km² (4.7 km² land area + 3.6 km² land fill)
Estimated GFA: 12km²
Inhabitants: 300,000
Function: High-density mixed-use (commercial, business, tourism, healthcare, conference, education, innovation centre, urban farming, etc.)
The project is located in a coastal city close to Beijing*. We plan to build several artificial islands to increase the project scale, in order to add additional flexibility in implementing large-scale, cutting-edge sustainable solutions and technologies with optimized impacts.
Our Goals
I. Resilience:
Uncertainty in the world is continually increasing. To be resilient, cities must be autonomous so as to stay independent of economic, social and environmental turmoil and unexpected extreme events. This means that, from energy supply, resource management to mobility and communication, our project needs to be self-sufficient.
II. Model for sustainable water surface development:
How can we sustainable urbanize the rest 2/3 or our earth surface, in which we add values to the environment and to the overall well-beings of all species, instead of subtracting?
The potential lies in the huge space offered by vast area of virgin lands, which makes large-scale, integrated and complex urban solutions possible.
In order to create truly innovative solutions, we need to be bold, and further blur the boundaries among different disciplines to collectively invent new solutions.
III. Explore the potential of using urban development projects as tools to steer economic and social development directions:
Large-scale urban development creates jobs and the use of sustainable technologies in the construction of the buildings as well as the infrastructure can bring the manufacture and R&D facilities to the local economy; also, urban structures constantly convey messages to its inhabitants, and their quality impacts mood, well-being and productivity of its citizens profoundly.
The bigger question we want to answer here is that, with our knowledge, technologies and resources, how can we help steer the social, economic development into shaping a better, more sustainable future?
Call for Ideas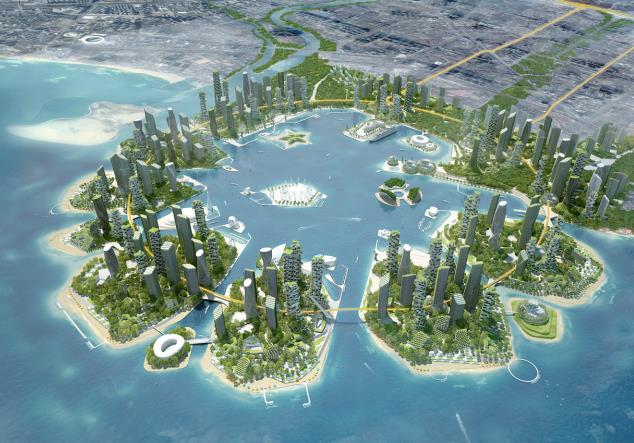 After signing a framework agreement for joint-development with the landowner, we started to develop the pre-concept for feasibility studies. At the current stage we are collecting the boldest ideas to developed the conceptual design of the project, areas we particularly need your expertise include:
Mobility (with the majority car traffic underground)
Energy
Oceanology
Resources & efficiency, circular economy
Water & waste management
Healthcare
Communications
Any other ideas that are bold enough to make a change
HOW TO PARTICIPATE
Submit your ideas to josephine.liu@urban‐future.org, which will be –
Processed by the team into a foundational plan in order to –
Select a board of experts to start the project.
Please make sure that the suggested ideas/ concepts/ solutions/ technologies have enough details for our team to evaluate their compatibility and feasibility.
Let's get going!
*As we seem to be in quite high demand, other coastal cities in china have invited us to check their available sites; currently we are checking other possibilities along the southeast coast line, with the wish to find another location with better climate zone.
This means that the pre-concept development of the project shall be less location specific. The goal is to create a prototype that can adept local conditions easily.